Latest news
Contact us
ADD: 1F Junfeng Building, Gongle, Xixiang, Baoan District, Shenzhen, Guangdong, China
TEL: +86-755-33168386
FAX: +86-755-61605199
E-mail: sales@chinaloadcell.com

> Common Pressure Sensor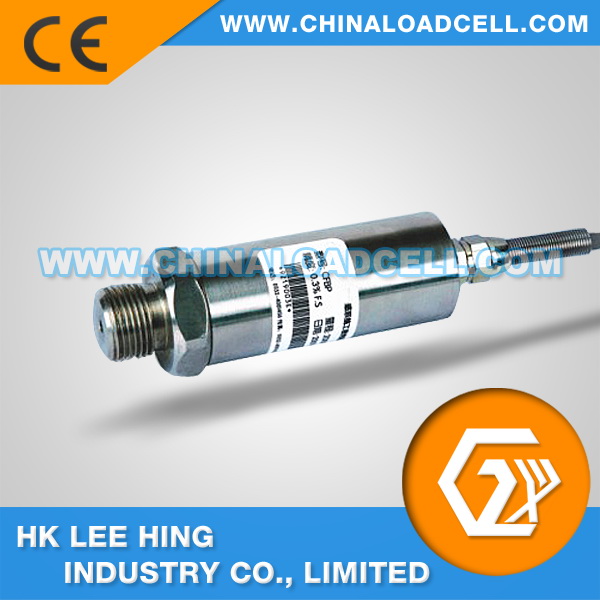 CFBPT/B Universal Pressure Sensor / Transmitter
Electronic Components > Active Components > Sensors
Place of Origin: China (Mainland)
Item No.: CFBPT/B
Rated Output: 1.0 ± 0.05 mV/V
Product Description: This sensor with round diaphragm structure, good sealing, reliable and durable, the standard interface can be exchanged with similar products at home and abroad.
Product introduction
Product Description
Category: Universal Pressure Sensor
Range: 1 MPa ~ 80 Mpa
Application: Widely used in oil fields, machine tools, chemicals, electric power, metallurgy, natural gas and other occasions, pressure measurement.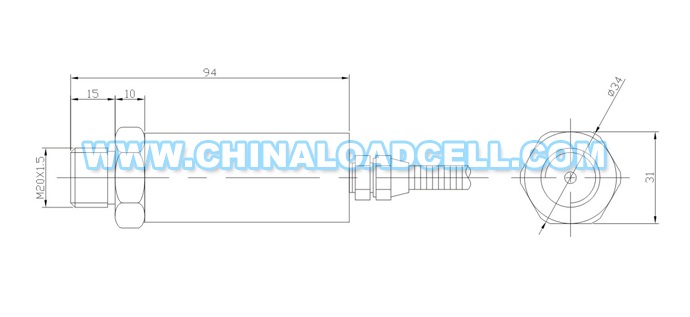 Dimensions in millimetres
Specification
Value
Range

1 MPa ~ 80 Mpa

Accuracy

1.0 ± 0.05 mV/V

No-linear


± 0.25

≤%F·S



Hysteresis


± 0.25

≤%F·S



Repeat ability


± 0.2

≤%F·S



Creep


± 0.1

≤%F·S /30 min



Zero output


± 1

≤%F·S



Zero temp

Coefficient




± 0.3

≤%F·S / 10 ℃



Sensitivity temp coefficient


± 0.3

≤%F·S / 10 ℃



Working temp range


- 20 ℃ ~ + 80 ℃



Input resistance


1K ± 20 Ω



Output resistance


1K ± 5 Ω



Safety overload


150% F·S



Insulation resistance


≥ 2000 MΩ (50VDC)



Driving voltage


10V ~ 15V



HK LEE HING INDUSTRY CO., LIMITED is one of the leading suppliers of Load Cells, indicators, scales and weight handling equipment in china, For recent few years, we have been expanding business to more than 100 countries and areas, where we have built-up a good reputation for super quality &fine image.

Strictly according to OIML R60, we design, manufacture and distribute various Load Cells , indicators and scales to oversea market with high precision reliable capability. Widely handled in weighing for commerce, medical treatment, and industry. Our R&D team is dedicated to exploring advanced weighing and electronic technology, who is famous for high technical level great ability creation. we develop new products that make use of the latest weighing and electronic technology against customer's requirement.

As an experienced supplier of international companies' OEM and ODM we take delight in providing complete technology solutions, under this situation, we have been keeping healthy relation with many Multinational Corporations.

HK LEE HING INDUSTRY CO., LIMITED. Your Business Solution. If you have any interest , please don't hesitate to contact with us, you will be assured that our professional service will make a convenience of your needs.
We would appreciate your comments on the layout design, presentation or other aspects of our website.
Please click: http://www.chinaloadcell.com/
Contacts: Kevin Huang


E-mail: sales@chinaloadcell.com


TEL: +86-755-33168386


FAX: +86-755-61605199


SKYPE: carlisle.wyk


Address: 1F Junfeng Building, Gongle, Xixiang, Baoan District, Shenzhen, Guangdong, China

ZIP: 518102

Website: http://www.chinaloadcell.com